Publisher
: Chaosium
A Town is affected by the opening of a forgotten church, a Bell that calls forth the spirits of the dead, who walk in the fog of the night. A Genuine miracle or a portent of doom?
Meant for 1920s era, but can be played in Gaslight to Modern. 1-6 players, 2-3 hrs of play as the start of a campaign or a one-shot adventure
9 pages, battlemap, handout, one Pre-gen Investigator.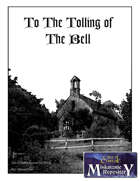 Price: $2.99