Publisher
: Free League Publishing
Welcome to the Swedish Civilian NPC expansion for Twilight: 2000 4th edition.
This expansion includes an ensemble of 40 complete and detailed non-player characters to be used in the Swedish post-apocalypse of Twilight: 2000.
Each character is a fully-fledged individual with a backstory, personality, skills, secrets, intrigues, and gear, allowing you to quickly dive deep into a new individual at the mercy of a dice roll.
Your players will meet people from all walks of life – from farmers to librarians, each trying to survive in their own way. Some civilians are regular folks attempting to navigate the treacherous waters of this new world. Others have darker pasts or even present, colluding with enemy forces or sabotaging their own community. Still others have descended into madness, becoming a menace to their fellow survivors.
Includes portraits for each character, generated using Midjourney AI.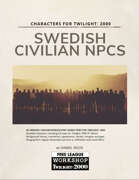 Price: $1.95