Publisher
: Free League Publishing
We're Back!
The Sophomore Issue of VaeZine, a Quarterly, Fan-Produced Zine to Enhance Your Gameplay in the World of the Vaesen Roleplaying Game is Now Available

Thomas Bailey, Johnell Hipol, and David Wartmann are back with more pages of resources for your adventures in the world of the Vaesen Nordic Horror Roleplaying game by Free League.
In addition to articles on mechanics, a scenario, and an extensive location, we're proud to also report on the great success in the community, VaesenCon in May and the various projects you all have brought to fruition. Our offerings this quarter include:
Magic in the World of Vaesen, Part 2
An Interview with Matthew Sanderson, author of multiple RPG scenarios
An urban mystery on the doorsteps of Castle Gyllencruetz
Some new rules to enhance Fear Mechanic
A new location, the Monastery, with accompanying NPCs and story hooks
News on the latest products from Community-Content Creators
News about what is happening in the Vaesen Community
If you are interested in contributing to Vaezine, we can be contacted at vaezine@gmail.com
See you Q3 for the next issue.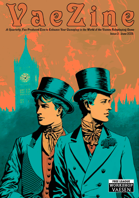 Price: $5.00