Publisher
: Chaosium
Young poet Justin Geoffrey has returned from Europe, his trembling hands clutching a collection of poems of such vivid imagery that many question whether they could truly be written by the same man who produced Geoffrey's earlier works! Publishers move quickly to bring these new works to print while their notoriety is at its peak, but they need more to enhance their product. They need provenance. They need a story.
---
Based on the short story The Black Stone by Robert E. Howard, this 1920s scenario takes a team of investigators on a journey to Hungary, tasked with following the trail of Justin Geoffrey in order to find proof of his journey. Of great interest to the publishers is the item at the heart of Geoffrey's greatest work – a black monolith somewhere in the wilds of central Hungary.
---
The People of the Monolith is a 60 page single-session scenario suited both for long-term games and as an introductory game. investigators are required to piece together clues from Geoffrey's newest poems in order to trace his journey across Hungary, and then to track down the secluded village of Stregoicavar, close to which lies the black monolith – and the truth as to how Geoffrey was inspired and his mind broken at the same time.
---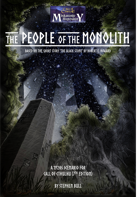 Price: $5.00