Publisher
: Free League Publishing
"Where are you from son?"
–        Every US Army Sergeant
This Twilight 2000 lifepath generation aid is designed for players who wish to choose or roll randomly for their American character's home state as part of the lifepath generation process.
It can also be used by GMs to create interesting backgrounds for NPCs. 
It is based off United States census information from 1997.
I hope that you enjoy it.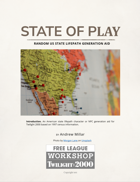 Price: $0.00