Publisher
: Free League Publishing
Welcome to the Soviet NPC expansion for Twilight: 2000 4th edition.
This book adds 50 detailed non-player characters to be used during the post-apocalypse of Twilight: 2000. Each character is a fully-fledged individual with a backstory, personality, skills, and gear, allowing you to quickly dive deep into a new individual at the mercy of a dice roll. They also include information on how they would react to an interrogation, if they would be captured by the player characters.
They will provide your players with a host of unique characters, each one a product of these desperate times. Among these figures, you'll find the soldiers of the Soviet forces – men and women, young and old, who are bound by the chains of their duty, and yet, are as diverse as the land they hail from. They are the unwilling conscripts, the seasoned veterans, the ruthless commanders, and the enigmatic spies – each with a story that is as compelling as it is tragic.
Their lives have been marked by the harsh realities of war and they bear the weight of the Soviet army's darker side. Some have been forcibly conscripted from their homes in poor regions or the Baltic States, others are stranded far from home, carrying out orders that test the limits of their sanity and morality. There are those who are trying to escape, fleeing from a war they didn't sign up for, while others revel in the chaos, their true, disturbing natures unleashed.
You'll meet the privates, the corporals, the sergeants, the tank crews, and the high-ranking officers, each characterized by unique attributes, skills, and specialties. They have their dreams, their secrets, their fears, and their guilt, each one adding layers to their complex personalities. Some carry dark secrets that could spell danger or unfold intriguing mysteries. Some are just trying to survive, dreaming of a time when they could live a peaceful life, while others scheme and plan to advance their positions or pursue sinister agendas.
The Soviet forces in Twilight: 2000 are more than just enemies. They are individuals shaped by the turmoil of war, each bearing the scars of their past, each struggling to find their place in this harsh new world. They offer a rich tapestry of stories, secrets, and intrigue, ready to bring depth and realism to your campaign, challenging your players with moral dilemmas, engaging conflicts, and unexpected alliances. So, immerse yourself in their stories, and unravel their secrets.
This expansion also includes a bundle of 210 portraits for all these characters, alternate versions and more, generated using Midjourney AI, as well as 210 token versions for use in Foundry VTT, Roll20 or any other Virtual Table Top.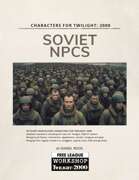 Price: $1.95