Publisher
: Free League Publishing
Nightmares and premonitions wake you in a cold sweat, panic tightening your chest. "It began with rolling fields and an invitation. An outstretched hand – whose hand? Then a starry sky and the emptiness of space. You couldn't breathe, your heart racing as you recognized a planet – the emerald – Kua, waiting for you. Glittering wings in the darkness surrounding you. Hundreds of butterflies followed by enormous shell-covered titans. A locust swarm coming to devour the Third Horizon." 
In dreams and visions, something calls out into the dark space of the Third Horizon – a new presence or something old? It may hold the answers for the future – about a prophecy, the Chosen and the coming Horizon Wars. 
Wake of the Icons is the third and final part of Mercy of the Icons, the epic and richly illustrated campaign for Coriolis – The Third Horizon. This book contains:
Extensive background information for the Gamemaster, describing the events 

which threaten the Third Horizon.
A Song for Kua: The first scenario starts with a series of visions, bringing the characters back to Kua.
The Tenth Icon: The second scenario sets the characters on a diplomatic mission to Sadaal to acquire the Nadir Flotilla as war in the Third Horizon grows closer.
The Horizon Wars: In the final climactic scenario war breaks out and the characters must lead the people of the Third Horizon to victory..
A metagame where the Gamemaster and the players can play out the fleet movements and clashes of the war.
An extensive appendix containing over twenty different ship types that take part in the war of the horizons.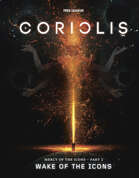 Price: $19.99